MRx102
The lead compound, MRx102 is being developed to treat AML under a Phase II SBIR contract from the National Cancer Institute. The compound is a lipophilic prodrug of triptolide, manufactured via a three-step synthesis from the natural product. Through our relationship with Pharmagenesis we have extensive experience in the cGMP manufacture of triptolide and its analogues.
MRx102 has shown activity in lymphoma cell lines (Table 1) and AML xenograft models (Table 2). It has also shown potent activity against blast cells removed from AML patients including those which are stem-cell like.
Table 1 - Cell Line (IC50 nM)
1. pre-incubation with human plasma 2.
no pre-incubation
Table 2- AML Xenograft Model (MV4-11)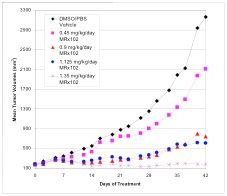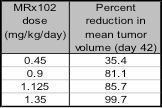 Initial pilot subacute toxicology performed in rats showed no untoward effects at doses up to 1.5 mg/kg/day i.v. for seven days.
MRx109
When evaluated in vitro after conversion by plasma, MRx109 potently suppresses T lymphocyte proliferation and cytokine production. Unlike standard immunosuppressive therapy (cyclosporine (Sandimmune®/ Neoral®), FK506 (Prograf®)), MRx109 suppresses co-stimulation-mediated T cell activation. In organ transplantation experiments performed in primates, a significant immunosuppressive activity of MRx109 alone and in combination therapy with standard anti-rejection agent Prograf® has been demonstrated (Table 3).
Table 3
MRx109 Efficacy in Monkey Kidney Allograft Transplant Model
MRx109

(mg/kg)

Prograf®

(mg/kg)

Individual survival

(days)

Survival Days

(mean ± SE)

0.06

-

7,7,9,27

12.5 ± 4.9

0.08

-

24,27

25.5 ± 1.5

0.10

-

9,36

22.5 ± 13.5

0.04

1.0

16,36,92,100

61.0 ± 20.7

0.06

1.0

24,48,100,100

68.0 ± 19.1

0.08

1.0

4,22,58,100,100

70.0 ± 18.8

-

1.0

23,27,34

28.0 ± 3.2

-

-

5,6,7,7,8,9

7.0 ± 1.4